"Risk-benefit in food safety and nutrition"
June 11-13 2019, Parma
ONLINE APPLICATIONS ARE NOW CLOSED AS THE MAXIMUM NUMBER OF PARTECIPANTS HAS BEEN REACHED
A "NO FEES" SUMMER SCHOOL FOR YOUNG SCIENTISTS
The European Food Safety Authority (EFSA), the University of Parma and the School of Advanced Studies on Food and Nutrition, with the collaboration of the Catholic University Sacro Cuore of Piacenza, the Technical University of Denmark, the National Food Agency, Sweden, the University of Barcelona, and the Istituto Superiore di Sanità are organising a Summer School for young researchers with the objective to provide an opportunity to learn from some of the most prominent experts in the field of risk-benefit approach in food safety and nutrition, including theory, case studies, and communication of results in risk-benefit studies.
The various health effects associated with food consumption, together with the increasing demand for advice on healthy and safe diets, have led to the development of different research disciplines in food safety and nutrition. In this sense, there is a clear need for a holistic approach, including and comparing all of the relevant health risks and benefits. The risk-benefit assessment of foods is a valuable approach to estimate the overall impact of food on health. It aims to assess the combined negative and positive health effects associated with food intake by integrating chemical and microbiological risk assessment with risk and benefit assessment in food safety and nutrition.
At the same time, it is essential to understand how some methodological and statistical criteria have become myths, thus affecting the way that consumers perceive the information provided by the scientific community, with special stress on benefits derived from foods. In addition, the communication to the general public of both risks and benefits of food also becomes crucial.
The organisers have opted for a free-of-charge Summer School to offer an opportunity to an extended number of PhD and young post-doc researchers and also other scientists to get advantage of this learning opportunity. Registration is limited to 150 people and participation will be decided by the scientific committee on a first-come, first-served basis. Young people without a permanent position need a short presentation of a scientific tutor. The deadline for applications is May 30th.
Apply asap, we look forward to welcoming you to the 2019 edition of this Summer School!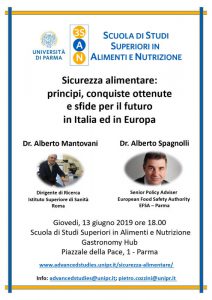 download the flyer.pdf